The Government's Lake Onslow hydro scheme proposes to effectively turn the South Island rock basin into a massive 5000 gigawatt (GWh) rechargeable battery to power the country during periods of little rainfall or wind, ending its dependence on gas and coal generation. At 5000GWh, Lake Onslow would be capable of storing about the same amount of energy as all the country's existing hydro schemes combined.
NZ Battery Project
The NZ Battery Project is investigating solutions to the 'dry year problem' when hydro catchments are low and fossil fuels are burnt to generate electricity to cover the shortfall.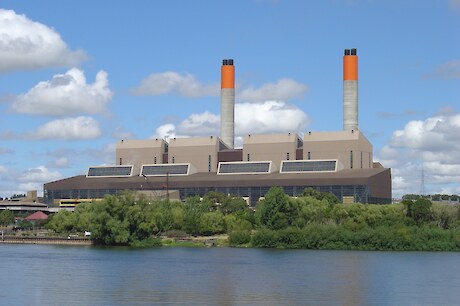 Huntly Power Station. Reliance on coal-fuelled power stations will need to be phased out as NZ transitions away from fossil fuels. Photo: Wikipedia.
The 'dry year problem' is that New Zealand's existing hydro-power catchments sometimes don't receive enough rainfall or snowmelt and the level of the storage lakes run low. When this occurs some form of back-up is needed, and this is currently provided by fossil fuel generation.
As New Zealand transitions away from fossil fuels and increasingly rely on hydro, wind and solar, the dry year problem may expand to become a dry, calm and cloudy problem.
The NZ Battery project will provide comprehensive advice on the technical, environmental and commercial feasibility of pumped hydro and other potential energy storage projects.
The name NZ Battery refers to the manner in which the intended solution will provide stored energy for the New Zealand electricity system in an analogous manner to a battery.
The first phase will evaluate the viability of pumped hydro schemes of various sizes at Lake Onslow, as well as at other possible locations, and will consider these solutions against alternative methods to resolve New Zealand's dry year electricity storage problem to achieve 100% renewable electricity and help to decarbonise the wider energy system.
In its 'Accelerated Electrification' report, the Interim Climate Change Committee (ICCC) recommended further investigating pumped hydro as a possible solution to the dry year problem. The NZ Battery Project will identify and investigate possible sites for pumped hydro, as well as at Lake Onslow in Central Otago, as part of the feasibility study, and other alternative technology approaches as comparators. Following rigorous assessment of all options, a feasibility study will be developed for the preferred option or options.
Find out more about the NZ Battery Project.
What is pumped hydro storage?
Pumped hydro technology involves transferring water between two reservoirs at different heights. Water flows from one reservoir to the other through tunnels, passing through a power station. When electricity demand is low or when surplus power is available, electricity is used to pump water from the lower reservoir to fill the upper reservoir. When water stored in the upper reservoir is released, it flows down the tunnels to drive turbines that generate hydro-electricity. Water in the upper reservoir effectively acts as a 'battery', as it can be released to generate electricity when it's needed during times of high demand or during dry years.
Feasibility exploration
On Thursday 14 October 2021 it was announced that a consortium of specialist firms have been awarded a major contract to advance the New Zealand Battery Project's feasibility investigation into a pumped hydro storage scheme at Lake Onslow. See the latest news article for more information.