Professor Sally Brooker (MNZM) is an inorganic chemist at the University of Otago. Sally grew up on a mixed sheep/crop farm near Hawarden, near the Hurunui River with Mt Tekoa's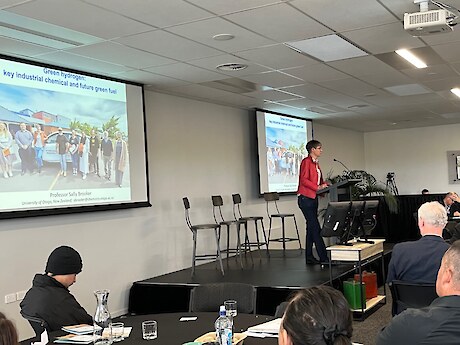 Professor Sally Brooker talked about green hydrogen and its potentialsnowy peak a spectacular sight in the winter. She attended Hawarden Area School (now Hurunui College), then gained a BSc (Hons) and PhD in Chemistry from the University of Canterbury. After 18 months as a postdoc at Goettingen University, Germany, she took up a lectureship at Otago University where she is now a full professor.
Her team are making and testing designer complexes of earth abundant metal ions in the search for better catalysts for reducing the energy required to produce green hydrogen from water, and carbon-neutral fuels selectively from carbon dioxide. She is co-leader, with Dr Paul Jerabek (HelmholzZentrum Hereon, Hamburg), of a German-NZ relationship building grant focussed on green hydrogen, which will foster relationships between the two countries, and provide opportunities for investment and collaboration with high-value industrial and research partners.