Murihiku Regeneration Structure
Governance, oversight and leadership is provided to Murihiku Regeneration through the Murihiku Regeneration Office.
Murihiku Upoko are Tā Tipene O'Regan, Michael Skerrett, and Terry Nicholas.
The Murihiku Regeneration Office is connected to rūnaka through the oversight group, who keep the four rūnaka informed through communication and updates.
Portfolio management, multiple programmes, and the day-to-day running of Murihiku Regeneration is the domain of the Portfolio Director and support team (Portfolio Office).
The diagram below illustrates the relationship between Te Rūnanga o Ngāi Tahu, Murihiku Hapū, and Murihiku Regeneration.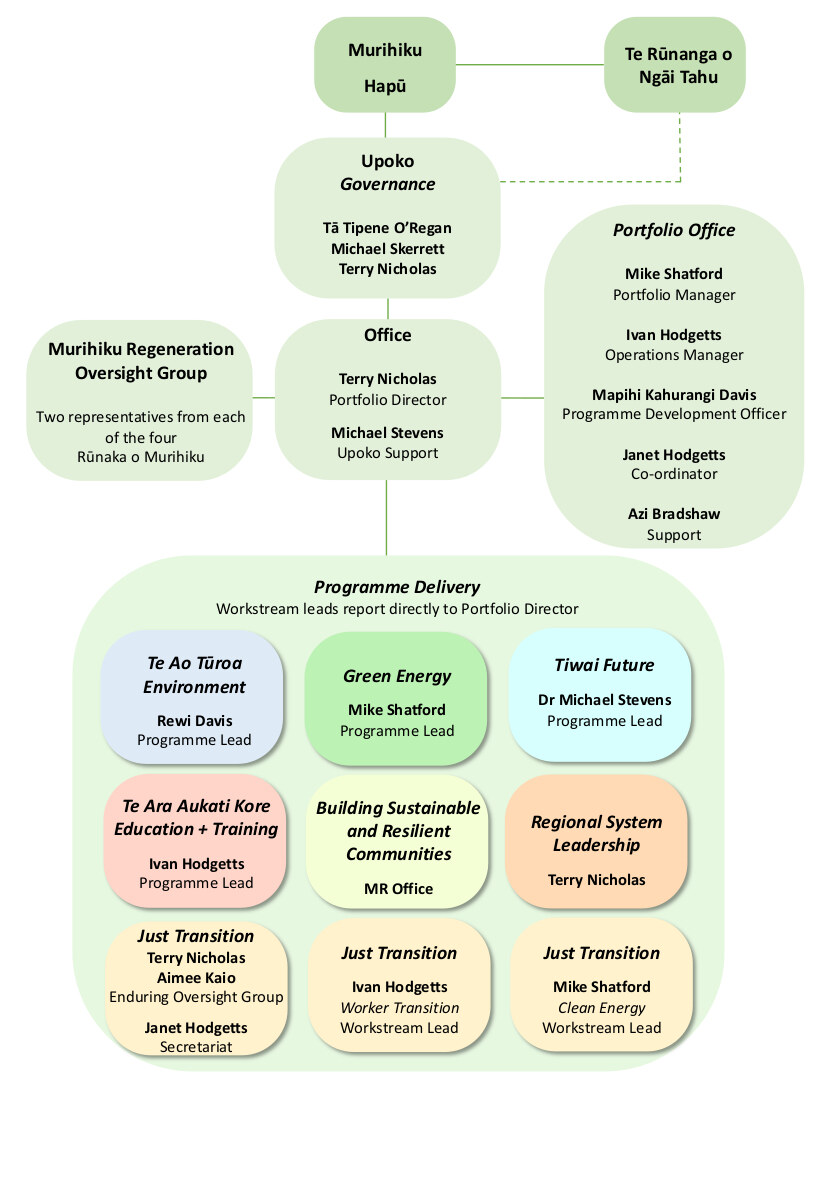 Te Rūnanga o Ngāi Tahu Te Apārangi committee (TAPA) has the primary objective to provide oversight and assistance to Te Rūnanga and the Chief Executive Officer on Te Rūnanga's external matters including policy development for key external issues, managing strategic relationships, external appointment processes and other strategic matters. (See Terms of Reference for TAPA (PDF, 467.11 kB)).
Ngāi Tahu Context
Ngāi Tahu is a large and complex tribe - the following gives context to where Murihiku Regeneration sits within the Ngāi Tahu structure.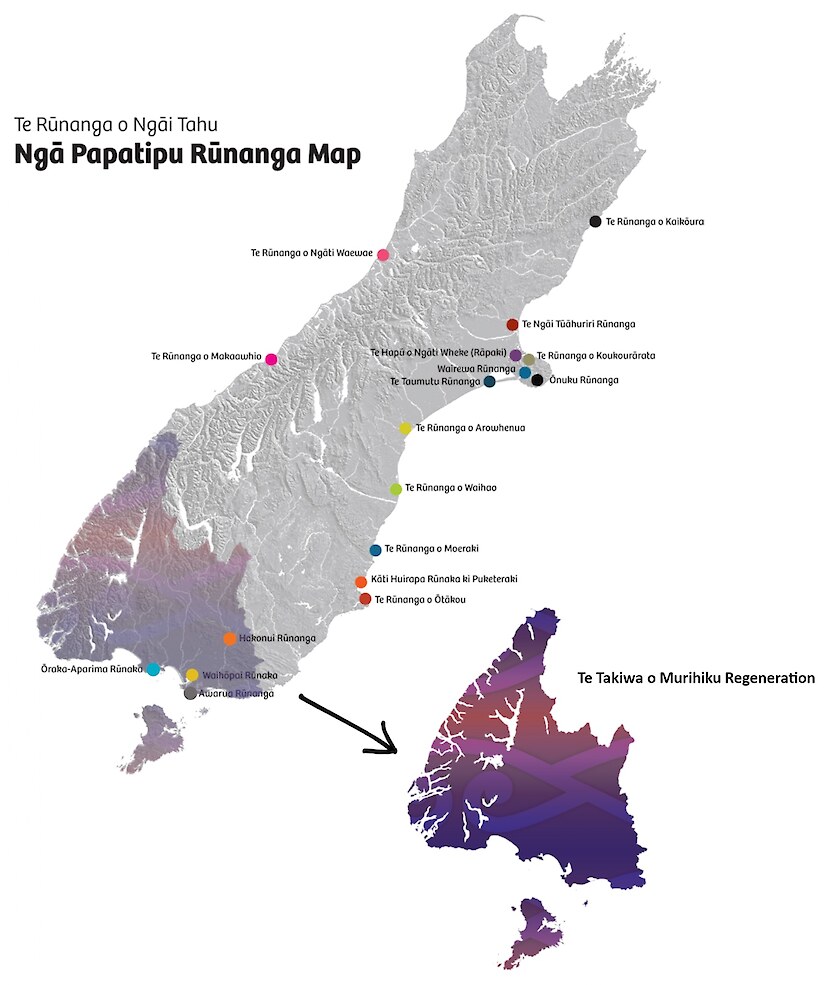 Papatipu Rūnanga
There are 18 Papatipu Rūnanga (see map), each with their own geographic location, governance structure, challenges, opportunities and aspirations for their own whānau.
Within this structure, each of the Papatipu Rūnanga set their own aspirations, priorities and goals for their geographical area and their whānau. Decision making, including determining policy positions, is generally decentralized to Papatipu Rūnanga, particularly in relation to regionally specific proposals.
Te Rūnanga o Ngāi Tahu
Te Rūnanga o Ngāi Tahu was established to manage and protect the collective interests of Ngāi Tahu and to support Papatipu Rūnanga.
Te Rūnanga is governed by a tribal council, consisting of one representative from each of the Papatipu Rūnanga.
Te Rūnanga generally forms policy positions on issues that cover the entire takiwā (tribal boundary) or affect the Treaty Settlements, as mandated by Papatipu Rūnanga.
Where an act requires consultation with iwi or an iwi authority, that consultation must be with Te Rūnanga o Ngāi Tahu, as per section 15 of the Te Rūnanga o Ngāi Tahu Act.
Relevant key principles of engagement (from Te Rūnanga):
Upholding Rangatiratanga.
Fulfilling Tiriti Partnership.
Providing Manaakitanga.
These include seeking joint decision making roles at all levels of decision making.
Ngāi Tahu Holdings
Ngāi Tahu Holdings is an investment company, owned solely by Te Rūnanga o Ngāi Tahu (via the Ngāi Tahu Charitable Trust).
It is operationally separately to Te Rūnanga and Papatipu Rūnanga.
Its role is to create wealth for their shareholders (ultimately Ngāi Tahu whānui) and to respect and contribute to the mana of Ngāi Tahu.
Murihiku Regeneration
Murihiku Regeneration was established as a collaboration between the four Murihiku Papatipu Rūnanga to work together to advance their collective aspirations.
Through Murihiku Regeneration, the Papatipu Rūnanga want to be able to work closely and collaboratively with the Crown, to give voice to the Treaty partnership and to ensure a clear, coherent plan for a prosperous Southland.
Murihik Regeneration Aspirations:
Cover environmental, social, economic and cultural goals.
Within the environmental space, aspirations include transitioning to a green economy, enhancing the mana of tangata whenua, environmental sustainability, and enabling kotahitanga, rangatiratanga and kaitiakitanga.