Tipene was born to his Ngāi Tahu mother, Rena Ruiha O'Regan (nee Bradshaw) in Wellington in 1939. His father was Rolland O'Regan, a surgeon of West Coast Irish descent. His mother had been born at Kōpūtai but raised in Awarua (Bluff). Rena was a nurse and a singer who descended from 'most of the major hapū of Ngāi Tahu'.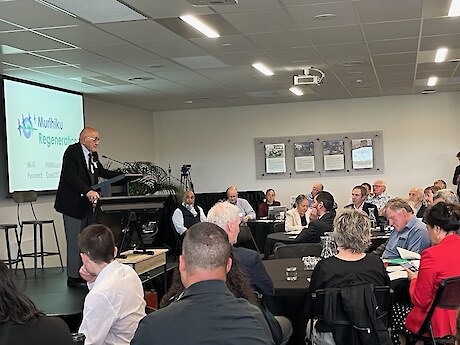 Tā Tipene O'Regan speaking on day one of the Science and Innovation Wānanga
Tipene's personal scholarly interest is largely in traditional history and ethnology of Ngāi Tahu and Te Waipounamu. As well he has a major academic interest in general New Zealand history and the Māori political economy. Tipene has published and lectured extensively over many years on NgāiTahu traditional history, Polynesian migration, Treaty issues and the evolution of biculturalism.