He Rau Kōrero - First Nations Advisory Roundtable
Nā Thomas Aerepo-Morgan i waituhi
'Irirangi ana te tangi mai o te hau tāwhiriwhiri i tua o Kahu Ariki, ko te pakinga tai aroha i Te Rau o te Huia, ka tere i te kare o te wai ki tua whenua, ki Motu-pōhue, koia tonu, ko Awarua tai tangata tēnei, ka tau.'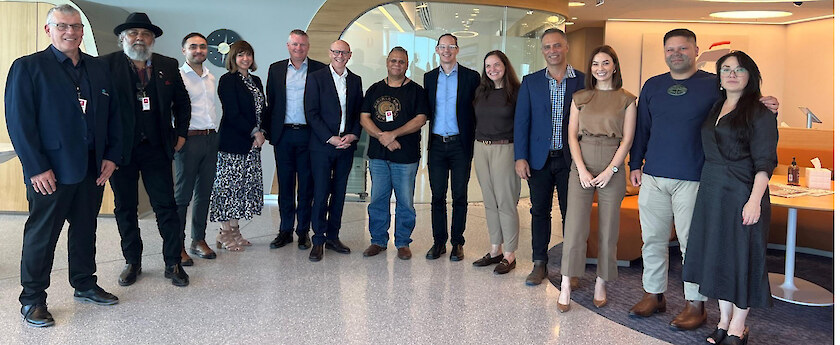 Kura Wānanga | Insights
Murihiku Regeneration was presented with the opportunity to participate in the First Nations Advisory Roundtable alongside Australian Aboriginal leaders, and experts hosted by Woodside Energy in Perth. The roundtable provided a valuable opportunity to listen and share insights on climate resilience, economic sustainability for future generations through emerging opportunities in New Energy. By convening in a roundtable format, members are able to collaborate and leverage their collective expertise, resulting in amplified advocacy for their rights and exchange of 'mātauranga' (knowledge) and 'rautaki' (strategies) for preserving and promoting our cultures. By valuing and integrating this mātauranga (knowledge), we can draw attention to important causes and create a platform for raising awareness and effecting change.
In addition to the above, the diverse perspectives, cultural beliefs and practices are important when it comes to decisions around 'New Energy' projects, such as those being pursued by Woodside Energy. These projects often have significant impacts on our 'whenua' (land), people, and 'wāhi tapu' (cultural heritage sites). By taking into account the diverse perspectives of roundtable members, companies like Woodside can ensure that they are engaging in responsible and sustainable development practices that are culturally sensitive, respectful and align with the values of the communities it works with. Adopting a values-based approach in this context can help build trust and relationships with Indigenous communities, and lead to more effective and sustainable outcomes for all stakeholders involved.
This partnership is an example of how companies operating in the energy sector can work in partnership with Indigenous communities, in particular Murihiku Regeneration to address climate change. By building strong relationships and incorporating our authentic knowledge and practices, companies like Woodside Energy can play a vital role in the transition to a more sustainable future.
However, the task of addressing climate change is too great for any one organisation to tackle alone. My views around building resilience and adapting to the impacts of climate change requires 'mahi tahi' (collaboration) and partnership between diverse stakeholders. This is why Woodside Energy has recognised the importance of working in partnership with Murihiku Regeneration.
Strategic positioning is critical when developing kaupapa to engage with our communities, particularly for organisations like Woodside Energy that aim to work closely with Indigenous communities. It involves understanding the unique needs and values of our people and positioning the project in a way that aligns with our culture and aspirations as a people.
A clear and well-defined strategic position can also enable Woodside Energy to allocate resources more effectively and prioritise efforts towards areas where it can have the greatest positive impact on our people, and potentially Aotearoa, New Zealand. Ultimately, strategic positioning can help ensure that Woodside Energy's initiatives are culturally relevant, respectful, and effective in engaging with Murihiku Regeneration and other Indigenous communities, leading to greater success and positive outcomes for all stakeholders involved.
In practice, building climate resilience for future generations involves a range of actions and kaupapa (initiatives) that can be undertaken by individuals, 'ngā hapori whānui' (communities), iwi organisations, and the government. These examples include:
➔ Renewable energy: Investing in and expanding the use of renewable energy sources such as solar, wind, hydro, geothermal, and biomass.
➔ Transportation: Promoting the use of low-carbon transportation options such as electric vehicles, public transportation, and active transportation modes such as biking and walking.
➔ Incorporating traditional knowledge and practices into climate resilience strategies. This may involve measures such as restoring wetlands, protecting important cultural sites, and integrating 'Mātauranga Māori' (Māori knowledge) into natural resource management plans.
➔ Climate education and awareness: Raising public awareness about the causes and impacts of climate change and promoting individual and collective actions to address it.
Whakarāpopototanga | Summary
In conclusion, the success of the First Nations Advisory Roundtable discussions on building climate resilience for future generations was evident in the valuable insights and perspectives shared. As we look towards a sustainable and prosperous future, it is critical that we prioritise the needs of our 'uri whakaheke' (future generations) and incorporate the knowledge and practices that have been passed down through generations.
We are very much at the beginning of this relationship and it is important that we take the time to establish strong foundations, understanding that the decisions we make today will impact the generations to come
Posted: 3 May 2023