Hokonui Rūnanga, Awarua Rūnaka, and WellSouth partner to create new inclusive primary health care service in Invercargill
Hokonui Rūnanga, Awarua Rūnaka, and WellSouth, the primary health organisation for Southland (and Otago), have partnered to create a novel primary health service to target unenrolled patients in Invercargill, particularly unenrolled Māori and Pacific populations. The patnership was officially signed by Rūnaka and WellSouth representatives on Thursday 30 September 2021.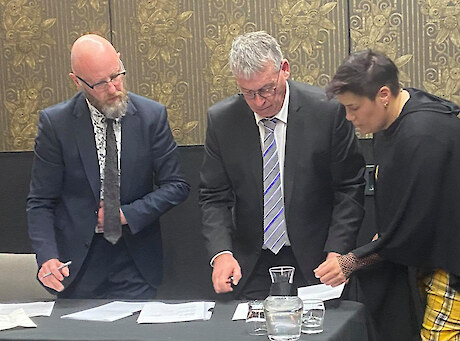 Making the partnership official - From left: Andrew Swanson-Dobbs (Ceo Wellsouth Primary Health Network); Terry Nicholas (Hokonui Rūnanga Health and Social Services Trust); Mata Cherrington (CEO Awarua Whānau Services). Photo: Amanda Webster
Called Te Hau O Te Ora - The Wind of Life (Health and Wellbeing), the new primary health service will start to operate out of a purpose-built facility by March 2024. Located in the Invercargill CBD, Te Hau O Te Ora will help to address the shortage of primary health care in Murihiku, particularly for those who need it most.
This partnership is a new, from the ground-up initiative that addresses the needs of the Invercargill community, with a focus on making real change that will result in improved equity of access and equity of health outcomes. The recent Covid-19 vaccination campaign has highlighted the existing issue that a number of Invercargill residents are unenrolled in a general practice. Māori health providers have reported that many of the people they provided services for remained unenrolled and unable to access primary care services, funded screening programmes and long-term conditions support. Māori and Pacific residents are disproportionately affected and miss out on preventative and ongoing health care and other social services.
A different model of care
Te Hau o Te Ora is based on a whānau-centred model of care, increasing access to primary care in the city and has the potential to make a substantive difference to Māori health outcomes in the Southern region.
Initially, the focus will be on delivering primary care services similar to those delivered by general practice and mana whenua mandated Māori health providers. As a not for profit entity, Te Hau o Te Ora's point of difference from the outset will be the ability for clinical teams to take the time they need with their patients and their whānau as profit driven booking models are not drivers of this model of care.
The partners of Te Hau o Te Ora intend the scope of service to expand to include enhanced primary care services and other community-based supports in the near future. The capacity and capability is in place to scale the programme and bring together primary care services, NGOs community health and social services providers in one location – true integration.
Governed differently
Honoring Te Tiriti o Waitangi principle of equal partnership and governance, the new services will have a clear focus on achieving Hauora with values and practices that serve the whole community. The partnership includes a renewedcommitment to openness and transparency of operations and to developing new partnerships with Māori Investors, mana whenua mandated Māori health providers and advisors.
Run differently
The new services will directly address needs of the unenrolled particularly Māori Pacific and high needs population groups.
Services will embody Manaakitanga throughout the patient journey, including a holistic front of house for primary care facilities and a focus on improved models of care in an urban environment such as adaptable services / hours.
It will provide a response for those that are unable to be enrolled at present and support a system that has limited capacity to enrol more patients at this time.
An example for other regions
This model of primary care delivery may be applicable in other localities throughout Aotearoa, and could be used as a pilot to inform and support its use with other locations.
Posted: 1 October 2021