Kaumātua housing units officially opened in Bluff
From Stuff. Reporter: Laura Hooper
It's hoped six new kaumātua housing units that were officially opened in Bluff will build on Te Rūnaka o Awarua's vision of creating affordable intergenerational housing.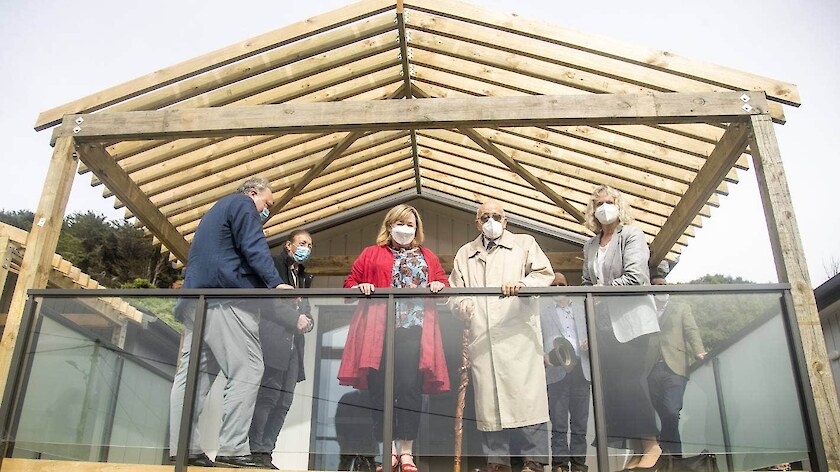 Labour MP for Te Tai Tonga Rino Tirikatene, left, Invercargill mayor Sir Tim Shadbolt, Minister of Housing MP Megan Woods, Upoko o Awarua Rūnaka Tā Tipene o Regan and Invercargill Labour List MP Dr Liz Craig at the opening of six new kaumātua units in Bluff.
The units were built in Christchurch and trucked to Bluff in August 2021, were the result of a $1.898 million grant from the Government's Covid-19 Response and Recovery Fund.
Te Upoko o Te Rūnaka o Awarua Tā Tipene o Regan, at the official opening on Tuesday, said the units, and the further establishment of housing for whānau on marae grounds, had been a vision for rūnaka leaders since the early 2000s.
"The idea of accommodation on and around the marae is not new. The idea of being intergenerational, with multiple children and whānau and kaumātua has been close to us for a long time," he said.
"These six new units will help to bring our whānau back to their tūrakawaewae and support our kaumātua to pass down their mātauraka (knowledge) to our tamariki and rakatahi."
More than 50 per cent of Ngāi Tahu people were now living beyond their takiwā, he said, and as such the units opening needed to be viewed as another step forward and not an end goal.
Minister of Housing MP Dr Megan Woods said it would take time to turn around New Zealand's housing crisis.
"I don't think any of us kid ourselves that there isn't much more to do … the housing crisis is a problem that has been created over many, many years, and it will take time to turn around … we are absolutely committed to solving it," she said.
The opening of the units had highlighted the importance of "by Māori for Māori" solutions, she said, and was an example of how the iwi and crown were stronger when working together.
Kaumātua Housing projects manager Corey Bragg said there had been strong demand for the kaumātua units before their opening.
"If you take our community, those aged over 65 have more than doubled since the early 1990s, but the population has stayed the same … that's the demand," he said.
There was a small amount of work left to be completed, and then families would begin to be shown through the units slowly in line with Covid-19 protocols.
The rūnaka was already considering establishing further whānau housing at the back of the marae in response to positive community feedback around the kaumātua units, he said.
Posted: 6 April 2022