Seed Collection Wānanga
By Tegan Ramage
Hidden in Otatara, an outer suburb of Invercargill you can find two hidden gems, the Southland Community Nurseryowned and operated by Chris and Brian Rance, and the Oreti Tōtara Dune Forest reserve. We were lucky to attend both for a seed collection wānanga and also to have been joined by Te Tapu o Tāne crew! Even if this reunion was short lived before parting ways for the day.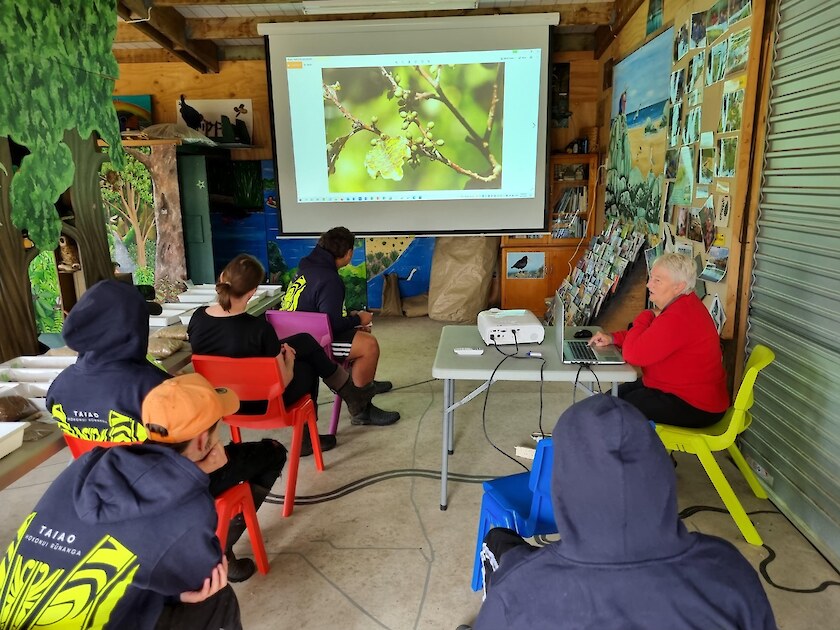 Tauira and Anna pay close attention to slideshow given by Chris Rance.
Left in the care of Chris Rance (Manager of the Southland Community Nursery), our tauira begun the day in the nursery workshop with a quick-fire round of introductions, then straight into it with a slideshow. It showed locally sourced plant life found on Chris's recent venture to Bluff, where she explained how to differentiate between the different types of vegetation, their names, and what the seeds look like. We gathered around the table, which had a variety of seed types ranging in size, shape, and texture for the boys to investigate. Kaloni Taylor extracted makomako (wineberry) seeds, and Raniera Smyth chose kōtukutuku (tree fuchsia), which he instantly regretted because he said, "they stunk".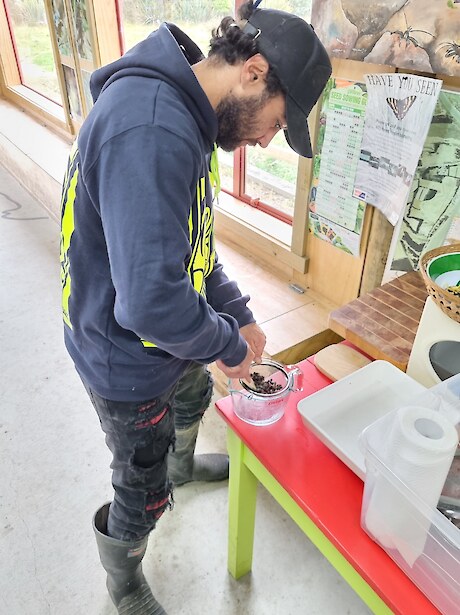 Raniera Smyth extracting kōtukutuku (tree fuchsia) seeds.
Chris took the tauira for a walk through the nursery showing the growth of certain plants which were part of last years seed collection, and how their aim for the community garden is to conserve southlands threatened plant life. She then showed the tauira the transformation that her and husband Brian have undergone to restore paddocks back into native forest, the selection of plants used in this restoration from native trees, shrubs, and wetland species. Also explaining how this process of re-colonising is called succession, and how this process can take many years before the transformation of a mature forest. On our trek, we ate berries from different Coprosma plant species, showed where and how to collect seeds, and even enjoyed seeing our very own Steve Irwin (Josh Aitken) catch a skink.
Later in the evening our crew joined forces with Jesse Bythell (QEII National Trust) and Penelope Gillette (DOC ecological expert) for a hīkoi through the Oreti Tōtara Dune Forest reserve. Jesse explained how the Native Forest Restoration Trust were able to secure this site. Sentre Harden was the most enthusiastic during our hīkoi, he really enjoyed being out in amongst the taiao. It was amazing seeing the contrasting areas as we explored, one second, you're in the Tōtara forest learning about the soil being dry consolidated dunes, the importance of Tōtara to Māori for the construction of waka, to Mānuka shrubland in its early stages of forest regeneration.
We saw a Giant scale insect found on a Mātai tree and gained another companion along the way being a black pīwakawaka (fantail).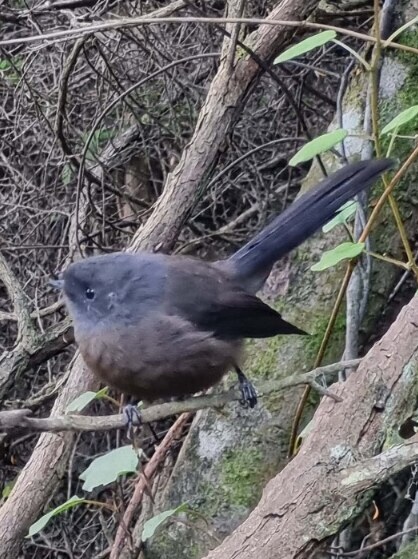 Our companion the black pīwakawaka (fantail).
There was just so much to learn and see, no matter how hard I try to recap, I will never do these amazing women justice by only mentioning a snippet of the knowledge bursting at the seams of these experts.
I would like to say a huge thank you to Chris Rance, Jesse Bythell and Penelope Gillette for taking time out of their busy schedule to educate us, share their passion, their knowledge, and their time.
See the Hokonui Rūnanga website photo gallery for more great photos!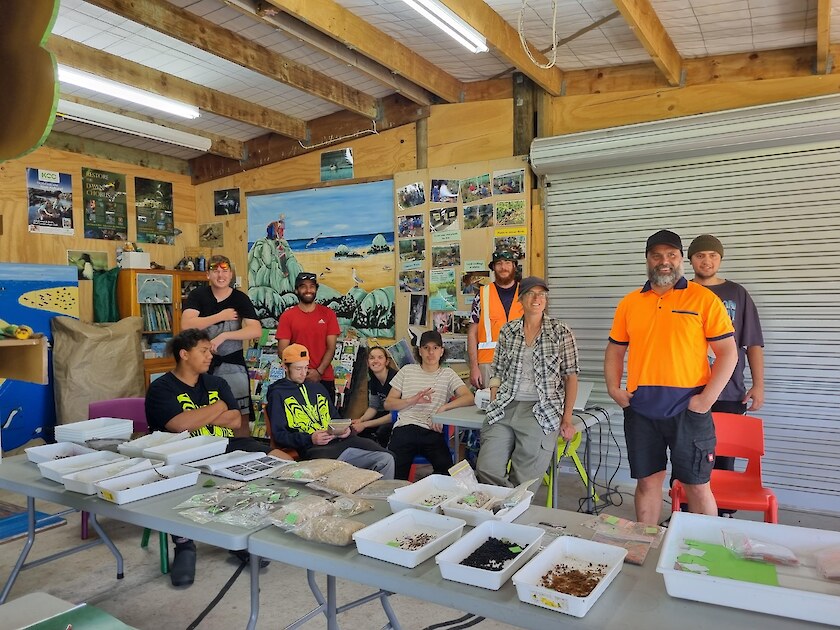 We concluded our day with a group photo of Kaitiaki tauira, Te Tapu o Tāne and our amazing experts.
Posted: 17 March 2022