Tā Tipene O'Regan - Finalist for the Kiwibank New Zealander of the Year - Te Pou Whakarae o Aotearoa
Murihiku Regeneration congratulates Tā Tipene O'Regan on being one of three finalists for the Kiwibank New Zealander of the Year - Te Pou Whakarae o Aotearoa 2022.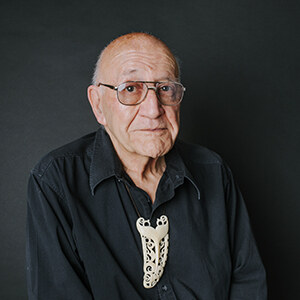 Tā Tipene O'Regan joins Dame Hinewehi Mohi (Ngāti Kahungunu/Ngāi Tūhoe) and Lisa Carrington (Te Aitanga-a-Māhaki/Ngāti Porou) as finalists for this prestigious award. The winner will be announced on Thursday 31 March 2022.
A public figure for most of his life, Tā Tipene O'Regan (Ngāi Tahu) has walked many paths. A major negotiator in Ngāi Tahu's Te Tiriti o Waitangi Settlement, a public speaker, thinker and academic, Tā Tipene has brought his knowledge and energy to the social and political fabric of Aotearoa New Zealand. The former university lecturer chaired and developed the Ngāi Tahu Archive Advisory Committee, which has led to a partnership with Archives New Zealand, and the rehousing of the Ngāi Tahu Archive collection at the brand new, state-of-the-art facility at Wigram in 2021.
Now in his 80s, Tā Tipene continues to think about the future for his people. In 2021 he worked alongside Minister Megan Woods to ensure the Tiwai Point aluminium smelter closure will be managed to create the best outcomes for the region and has been instrumental in driving hui to explore opportunities for new, green hydrogen industries in the area. Tā Tipene's work has naturally strengthened Ngāi Tahu's ownership of its past, while helping to build a future-focused, intergenerational iwi.
Previous winners of the New Zealander of the Year Award are:
Dr Siouxsie Wiles (2021), Jennifer (Te Atamira) Ward-Lealand (2020), Mike King (2019), Kristine Bartlett (2018), Taika Waititi (2017), Richie McCaw (2016), Sir Stephen Tindall (2015), Dr Lance O'Sullivan (2014), Dame Anne Salmond (2013), Sir Richard Taylor (2012), Sir Paul Callaghan (2011) and Sir Ray Avery (2010).
Posted: 28 March 2022