Visible work commenced by NZAS at the SCL pad
NZAS / Rio Tinto have commenced some work at Tiwai Point that will be visible to residents in Bluff over the next two weeks.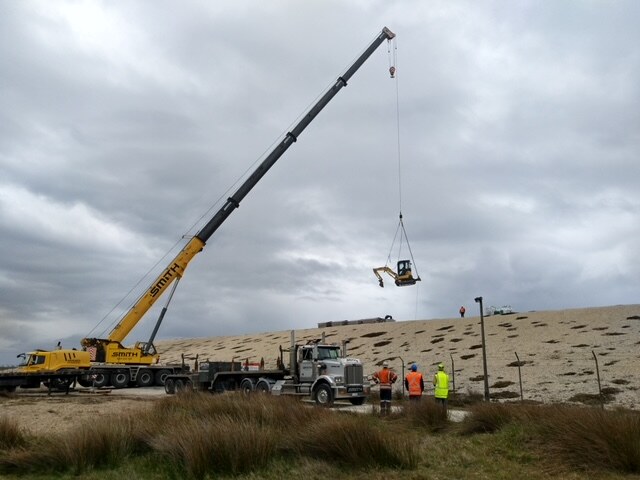 A small excavator was craned onto the SCL pad recently to aid in SCL sampling.
Work is being done at the spent cell liner (SCL) pad on the southern side of the smelter site. The work will involve adding small structures to the top of the SCL pad and using a small excavator to remove some SCL for testing purposes. An excavator will be sitting on top of the SCL pad as a result, making it more visible.
This work is part of a suite of activity being undertaken in relation to managing and ultimately removing SCL from site. This work is important to help inform future work programmes for remediation and waste management.
The purpose of this sampling is to better understand the composition of this material to inform processing options. Outside of the small amount of SCL removed for testing, no other SCL is proposed to be moved from the SCL pad.
It is likely to be several years before NZAS are in a position to commence excavation and processing of the material, however this sampling is an important first step in planning for the future work.
Posted: 27 October 2022