Just Transition is a government programme that had its genesis in New Plymouth where the government policy to reduce the oil and gas industry had a huge impact on community. Government worked with the local community to ensure that the transition to an economy not dominated by oil and gas extraction would benefit everyone – i.e. it is Just.
Following the July 2020 closure announcement of the New Zealand Aluminium Smelter (NZAS), the Government committed to support the Southland region through a just transition process. In response, the Ministry of Business, Innovation and Employment (MBIE) has supported a year-long engagement and planning process with Southlanders.  
Regardless of the fate of NZAS, a key focus of the just transition is planning for and managing the social, economic, and environmental impacts of economic change. A transition process should support communities to include a range of perspectives in planning, seize opportunities, and mitigate harms. 
Find out more on the Southland Just Transition website.
Have your say! Give us your feedback, thoughts and ideas.
---
Work Plan
On Wednesday 2 February 2022 the Just Transition Work Plan for Murihiku (PDF, 2.42 MB) was released.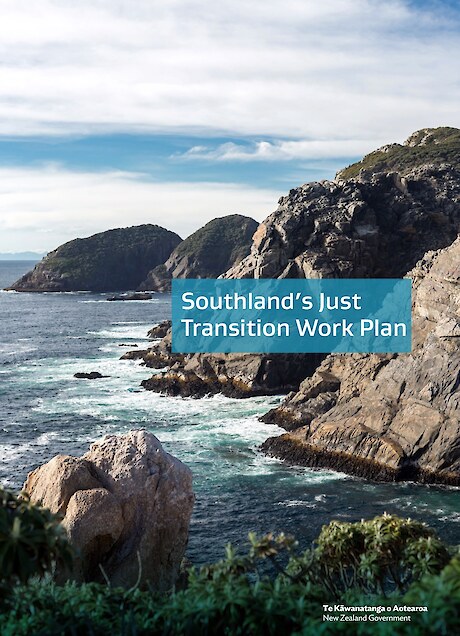 The work plan identifies three key themes of focus for Murihiku:
New industries and employment 
Transitioning business and skills 
Long-term planning and capability 

The first of these themes, new industries and employment, describes how the just transition will contribute to diversifying Southland's economy, supporting new industries and creating meaningful jobs. The second theme, transitioning business and skills, identifies how the process will work with workers and the business community to support them through the transition. The final theme, long-term planning and capability, is about helping the region take charge of its own future through long-term planning and community resilience.
Read the release letter by Hon Megan Woods here (PDF, 144.89 kB).
---
Work Streams
Work streams have been developed to sit under each theme. Each work stream has a Southland lead.
Find out about each work stream from the Southland Just Transitions website in the links below: