Papatipu Rūnanga create a 'template for restoration'
Article written by Louisa Steyl. Published in Stuff.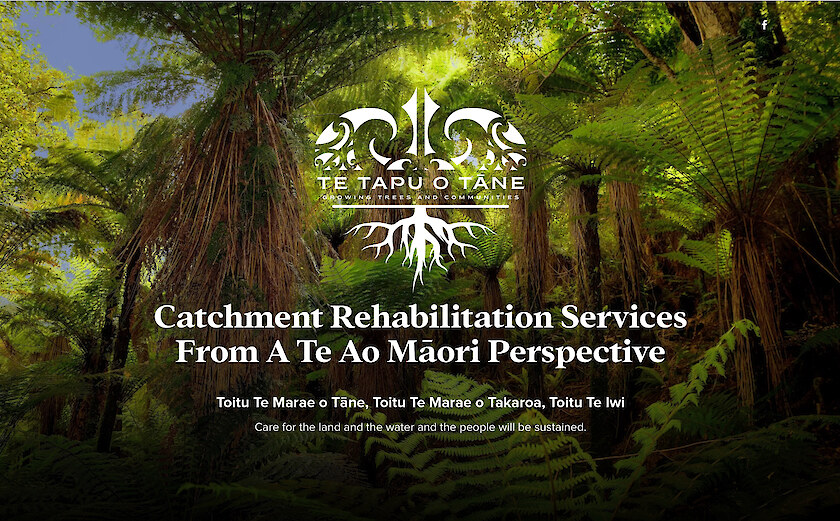 What started as a simple idea to grow trees has become a social enterprise that's steadily restoring the whenua of Murihiku while building futures for its rangatahi.
Te Tapu o Tāne officially opened its native nursery, named Te Kōhaka o Tāne (The Nest of Tānemahuta), in Invercargill on Wednesday, inviting partners and whānau to learn about its mahi.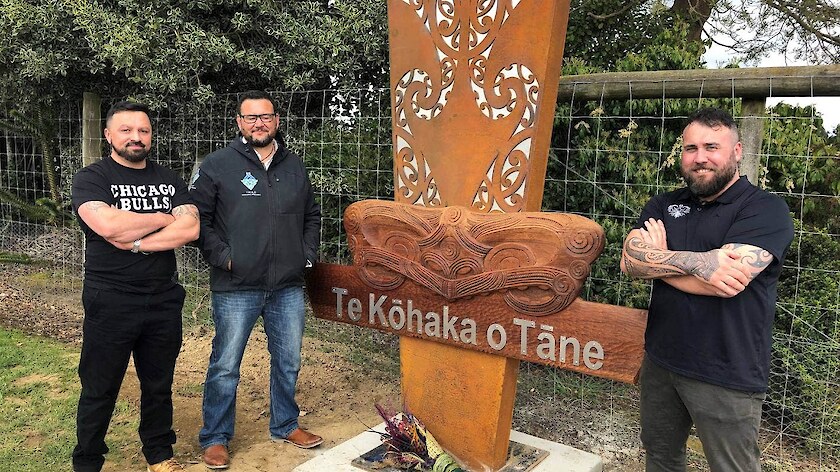 Kāi Tahu artist Steve Solomon of Te Rūnaka o Ōraka-Aparima, left, created a carving to mark the entrance to Te Kōhaka o Tāne (The Nest of Tānemahuta). He's seen here with Te Tapu o Tāne board chairman Riki Parata and chief executive Jana Davis, right.
One year in, the nursery has created 30 jobs, grown and sold more than 150,000 native plants, and is working on 16 restoration projects throughout the Murihiku takiwā.
The team plan to grow 500, 000 plants in the next 12 months with a vision of expanding to five million a year in the next five to 10 years.
Te Tapu o Tāne board chairman Riki Parata said the nursery wasn't just about plants.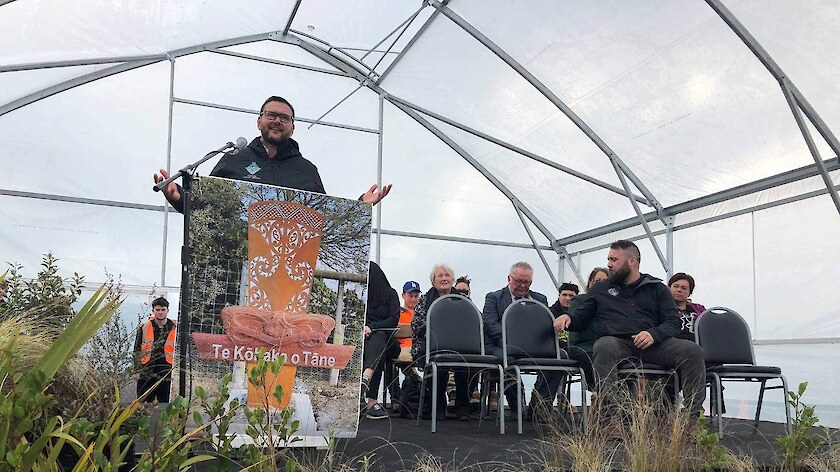 Te Tapu o Tāne board chairman Riki Parata says the nursery marks new ground in terms of an environmental collaboration between iwi and council.
Started with funding from the Ministry of Primary Industries and the Department of Conservation's Jobs for nature fund, Te Tapu o Tāne is a collaboration between Ki Papatipu Rūnanga o Murihiku and the Invercargill City Council which own the land the nursery has been built on.
From a social perspective, it provides a space where rangatahi can train and gain qualifications in environmental jobs while generating profit to be used in the community.
"We want to have [career] pathways for the future," Parata said.
Environmentally, Pou Tūraka (chief executive) Jana Davis said Te Tapu o Tāne was a chance for mana whenua to show what a template for restoration could look like.
"This project is a way to combat climate change at scale… successful restoration is about creating a relationship between community and te Taiao (natural environment)."
Catchment management was needed for environmental change, he said, "because what happens in the headwaters affects us here".
He wanted people who did business with Te Tapu o Tāne to feel like they were making an investment rather than simply transacting, Davis said.
Invercargill City Council leisure and recreation manager Steve Gibling said the council had land it wasn't using and wanted to support mana whenua as its partner.
"[Iwi] are a critical partner in our community, and we need to understand mana whenua. This is a great way to partner shoulder to shoulder."
Te Tapu o Tāne has already built a 2000 square meter nursery space along with a 1800 square meter shade house.
A newly built tunnel house will fit half a million seedlings while two planned 2200 square meter nurseries will add spaced for another one million plants.
Te Tapu o Tāne Pou Whakahaere Phil Moeke, left, Kaiwhakahaere Mahi Ashleigh Taomia, and Pou Tūraka Jana Davis hope to be growing five million native plants in the next five to 10 years.
Posted: 22 September 2022