Rio Tinto records financial profit
On 28 July 2021 Rio Tinto released it's Interim Half Year Results for 2021.
The global multi-national mining group has recorded a US$12.1 billion profit for the first six months of 2021 and a record high dividend payout of US$9.1 billion.
Rio Tinto Chief Executive Jakob Stausholm said "Government stimulus in response to ongoing COVID-19 pressures has driven strong demand for our products at a time of constrained supply resulting in a significant spike in most prices. We focused on safely running our world-class assets and supplying products to our customers. This enabled us, despite operational challenges, to deliver record financial results with free cash flow of $10.2 billion and underlying earnings of $12.2 billion, after taxes and government royalties of $7.3 billion."
See summary slides of Rio Tinto's Half Year Results 28 July 2021.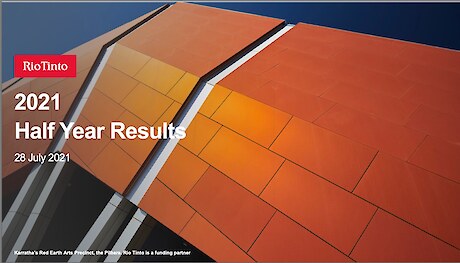 What does this mean for Aotearoa and Tiwai?
The Spinoff has published an article written by Bernard Hickey about the role Tiwai had to play in Rio Tinto's record profits. The price New Zealanders are paying in terms of 'energy poverty' is also discussed.
While Tiwai Point's owner posts spectacular results – crediting dirt-cheap NZ power as a key factor – New Zealanders struggle with high electricity prices that are set to rise even further.
See Bernard Hickey's article: Why those is energy poverty should be angry about Rio Tinto's latest results - it's definately worth taking the time to read.
From the article:
"Rio Tinto, the owner of the Bluff aluminium smelter, noted in its results statement how successful its threat to shut down the smelter late last year had been. The threat led 51% state-owned Meridian Energy to give Rio Tinto a $60m per year electricity price cut, which means the smelter now pays just $35 per megawatt/hr. That compares with the average wholesale electricity price since January, when the price cut was introduced, of $239 per megawatt/hr. The price this week in the lower South Island is $103/mw/hr.
"Lower energy prices, on average, compared to 2020 first half benefited underlying EBITDA by US$43 million, mainly due to lower energy prices at our aluminium smelters, including the new agreement reached during the first half in relation to the electricity supply to New Zealand Aluminium Smelter (NZAS)" Rio Tinto results statement.
Rio Tinto reported this lower price deal had contributed to its record US$12.1b profit in the first six months of 2021 and its record high dividend payout of US$9.1b. It illustrated its "outstanding financial results" slide with a picture of a Bluff Smelter worker. "
Posted: 1 August 2021