Strong Murihiku Hapū input and support for potential Southland Just Transition package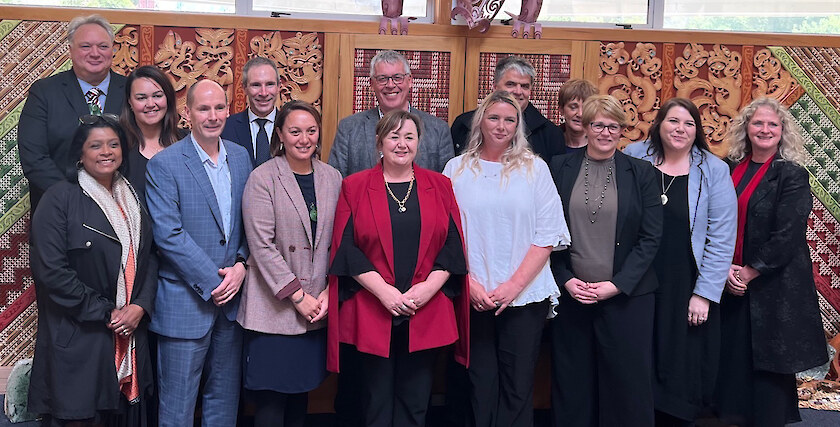 Photo Back row l-r: Rino Tirikatene (MP for Te Tai Tonga); Trinity McMahon (MSD); Dean Ford (MBIE); Terry Nicholas (Murihiku Regeneration); Richard Kyte (Thriving Southland); Clare Hadley (ICC). Front row l-r: Chami Abeysinghe (Great South); Neil McAra (Co-chair JT eOG); Aimee Kaio (Co-chair JT eOG); Hon Dr Megan Woods (Minister); Anna Huffstutler (E tū); Jackie Flutey (Community Trust South); Steph Voight (MSD); Liz Craig (Labour MP).
On Thursday 1 December at Te Rau Aroha Marae, Awarua Rūnaka hosted Murihiku Upoko, other Murihiku Rūnaka Leaders, Minister Megan Woods, Mayors, government officials, members of the Just Transtions Enduring Oversight Group (eOG) and other invited leaders to a presentation around a proposed Murihiku-Southland Just Transition plan and potential package for the region.
The event was opened by Tā Tipene O'Regan and closed by Michael Skerrett.
The overarching message was one of the region being aligned and prepared for the eventuality of a Tiwai closure, but also palnning for a future where the Tiwai Smelter remains open in the long-term and other new industries come into the region.
The package looks to build on the opportunites for major projects in clean/green energy, aquaculture, and provide business and community support around either of the two potential scenarios. These will be considered in the 2023 government budget processes.
Strong supporting messaging by the Mayoral Lead – Nicol Horrell (Environment Southland), and also reinforced by Mayor Ben Bell (Gore District) and Rob Scott (Southland District) provided confidence that the plan and proposed package could help prepare for either of the two potential sceanrios.
There has been very strong Murihiku Hapū representation in this programme, with Murihiku Regeneration leading the Clean Energy and Worker Transitions workstreams, and Enduring Oversight Group Co-chair Aimee Kaio (Awarua Rūnaka) leading the Aquaculture workstream for Te Rūnanga o Ngāi Tahu.
The Just transtions Programme has had input from a range of Southland groups across seven workstreams.
"Our strong preference is that Rio Tinto keep the Smelter operational in the long term, having commiteed to us that they will clean up the toxic waste, apply approriate environmental protections and support potential future renewable energy industries to come into the region to provide jobs, economic opportunity and support all of our communities to prosper", said Terry Nicholas - Murihiku Regeneration Director and Green Energy Lead.
"The recent announcement of Woodside and Mitsui as preferred developers in the Southern Green Hydorgen Project, and hard work undertaken by Te Rūnanga o Ngāi Tahu around aquaculture are two very positive steps. Equally, the work being led by Awarua Rūnaka on Tiwai remediation, and Hokonui through Murihiku Regeneration on green energy has the potential to ensure that this Just Transtions Programme is successful. I am excited for our future", said Michael Skerrett - Murihiku Upoko.
The next steps in the programme will be for a follow up meeting with Ministers in February 2023 to ensure that identifed priorities and projects are progressing through the government budget processes for consideration in 2023.
Posted: 2 December 2022