On 7 April 2022 NZAS released the findings of its Preliminary Closure Study, which outline the work that will take place to remediate the site as part of any future closure.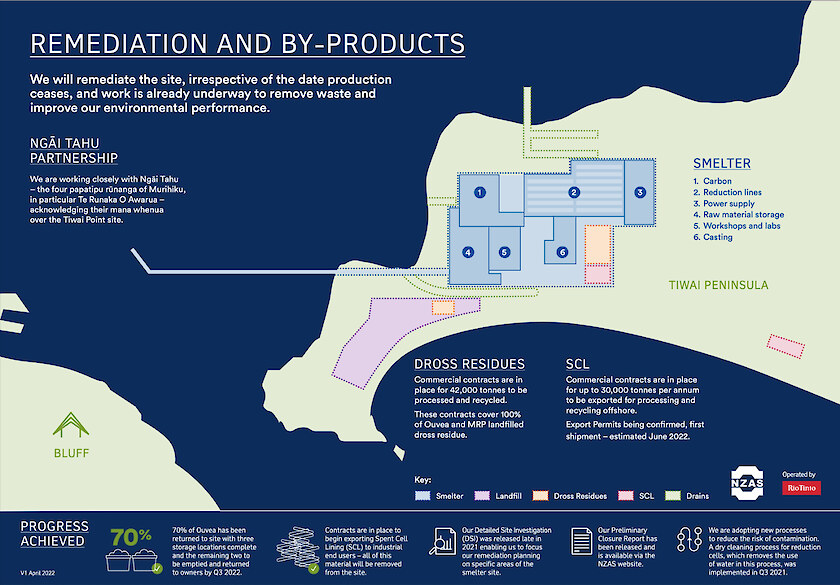 The following has been taken from the NZAS Press Release from the same date:
The Preliminary Closure Study provides an initial overview of key work programmes that would be undertaken, including:
Removing all Spent Cell Lining (SCL) material to be recycled for alternative use. This will be achieved through a combination of export and on-site processing, and NZAS is seeking to accelerate this process irrespective of the closure date.

Relocating the current landfill to a new lined and capped landfill at a higher elevation on the Tiwai Site.

Demolishing existing assets and removing foundations to a depth of 1.5 metres.

Remediating contaminated soil to an industrial standard, noting any future alternative land use will be identified in due course.
Progressive remediation activities to remove waste and improve our environmental performance will take place where possible while operations continue.
The Preliminary Closure Study's central case has been developed based on a closure date of December 2024, with closure activities estimated to take place over a ten-year period after the end of operations. An extension to operations beyond 2024 would see some activities take place in advance of closure and reduce the timeframe for the successful remediation of the site.
Closure Documents
Have your say!
Give us your feedback, thoughts and ideas on our feedback form.